PAUL DEMARS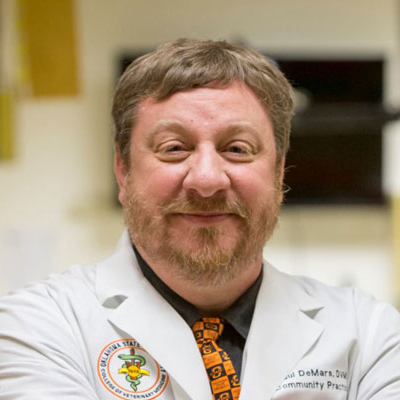 Veterinary Clinical Sciences
Clinical Aso Prof
2065 WEST FARM ROAD
STILLWATER, OK 74078
Phone:
405-744-7000
paul.demars@okstate.edu
Expertise
Canine and Feline Practice
Biography
Paul DeMars, DVM, DABVP, is an associate professor. He was born and raised in Stafford Springs, Conn. After graduating from the University of Connecticut with a bachelor's degree in Pathobiology, he moved to Stillwater, Okla., to pursue his training in veterinary medicine. In school he met and married his classmate, Anna Coffin. After graduation in 1994 they moved to Concord, N.H. where they both worked in primary care veterinary practices. Three years later they moved back to Oklahoma and bought Guthrie Pet Hospital in Guthrie, Okla. After working together for two years, DeMars returned to OSU where he has worked in the Community Practice service since 1999.

In 2001, DeMars became board certified in the American Board of Veterinary Practitioners, Canine and Feline Practice. His areas of interest include wellness medicine, ear disease, geriatric medicine, behavioral medicine, practice management and communication.