LARA SYPNIEWSKI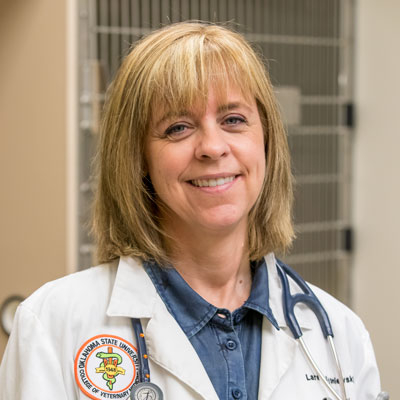 Veterinary Clinical Sciences
Clin Aso Pf/Henthorn
001 BVMTH
VETERINARY CLINICAL SCIENCES DEP
STILLWATER, OK 74078
Phone:
405-744-7305
lara.sypniewski@okstate.edu
Biography
Lara Sypniewski, DVM, DABVP, CVA, CCRP, is an associate professor and holds the Henthorne Clinical Professor of Small Animal Medicine at Oklahoma State University. A 1998 graduate of Purdue University School of Veterinary Medicine, Sypniewski has focused her career on providing an integrative approach to wellness. As a trained acupuncturist and canine rehabilitation practitioner, Sypniewski provides a balanced approach to encourage whole animal wellness throughout each stage of life. Her hope is to improve the quality of life of her patients by effectively managing pain and improving posture, balance and symmetry for lifelong good health.

In addition to her clinical responsibilities, Sypniewski's collaborative research is focused on pain relief and wound treatment options for exotic species, with a long term goal of determining the effectiveness of opioids in avian and exotic mammals.

Sypniewski is married to a wonderful man, Gary, and has the cutest "tween" son, Evan. She adores poodles (she has three-one of each size: Cooper, Leo, and Galt) and loves her elderly male cat, Jack. In her free time, she enjoys watching her son's baseball or basketball games, walking her herd of dogs and doing yoga.